SP Flash Tool is a flashing application which helps in flashing firmware, Recovery, and other files to MTK devices. Smartphone flash tool is designed to work with MediaTek powered devices (Smartphones, Smartwatches, and other MTK devices) and thus it is also called MTK Flash Tool. Here on this page, you can download SP Flash Tool v5.1708 for Windows 11/10/7/8/8.1 and XP.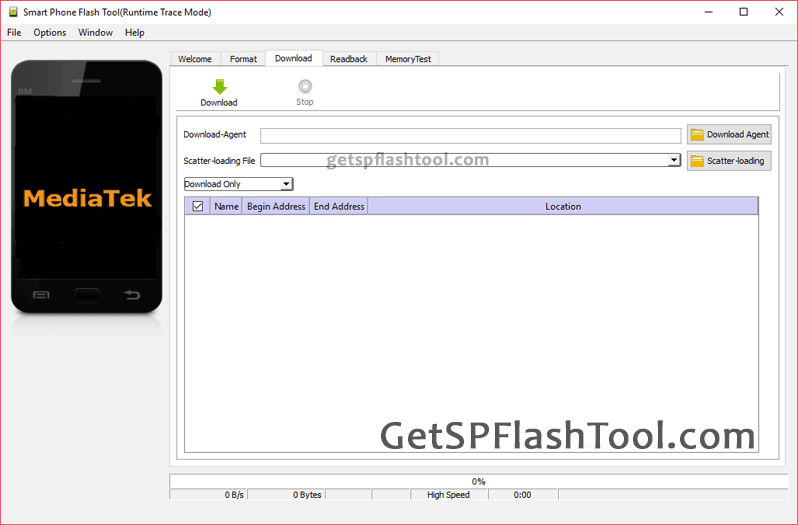 The Smart Phone Flash Tool requires Download Agent (DA) file and Scatter-loading file (Scatter file) to flash the ROM, Recovery or other files to an MTK device. It also requires Android CDC Driver, and MediaTek USB VCOM Drivers to be installed on the system for it to be able to detect the MTK based device when connected to PC.
Below you can download SP Flash Tool v5.1708 for Windows OS. The application is packed in a zip archive and it requires to be extracted after it has been downloaded.
Also Download: SP Flash Tool v5.1652 for Windows
Download SP Flash Tool v5.1708 – Windows
File Name: SP_Flash_Tool_v5.1708_Win.zip
File Size: 48.5 MB
Compatible with: Windows 11, 10, 7, 8, 8.1 and XP
System architecture supported: 32-bit / 64-bit
How to use Smartphone Flash Tool v5.1708
The complete steps by step instructions on how to use SP Flash Tool to flash firmware, recovery and other files to MediaTek device can be found here.
[*] Take Backup First: Flashing firmware using SP Flash Tool will wipe your data. We recommend you to take a backup of your data before using this tool.
[*] Android CDC Driver: Smartphone Flash Tool requires Android CDC Driver. If you want to use this tool then download and install Android CDC Driver on your Windows computer.
[*] Android VCOM Driver: If Android CDC Driver doesn't work or help you then try Android VCOM Driver (download) which supports all MediaTek devices.
[*] Always Scan First: We have scanned SP_Flash_Tool_v5.1708_Win.zip before sharing it here. However, we still recommend you to scan the file before using.
[*] Download SP FlashTool for Linux: If you are a Linux user then you can download SP Flash Tool for Linux here.